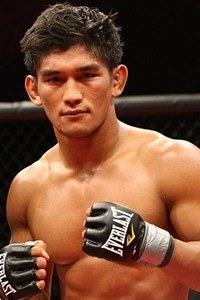 Mixed Martial Arts is one of the toughest sports in the world, as it takes strength, skill, dedication, heart, and most of all, the right mind set. Most professional mixed martial artists need to have all of these attributes to truly succeed in this sport. "The Burmese Python" Aung La NSang came to the United States when he was 18-years-old. It was then, where NSang found Brazilian jiu-jitsu. Nsang began training at Crazy 88 BJJ in Elkridge, Maryland with the idea of seeing how far it would take him. Aung La NSang told www.njmmanews.com "After a few months of training I moved into MMA" and later added "I pretty much just fell in love with MMA since 2005."
In his professional MMA debut, NSang did not get off to a good start. He was finished via TKO in the very first round. Like all athletes, one must learn from their mistakes and NSang did just that. "The Burmese Python" went on to win his next four fights, finishing three of them by submission and the other via KO. After that NSang's career was on and off, facing tougher competition like UFC's Constantinos Philippou and Uriah Hall. It was in May of 2012 where NSang made his Bellator debut. NSang went on to knockout Philadelphia's own Jesus Martinez in just thirty-six seconds. Following that big win, he kept the ball rolling. NSang racked up a TKO win over Jason Louck in his Cage Fury Fighting Championships debut, the promotion which he fights for to this day.
The Crazy 88 jiu-jitsu player hit a road bump in his MMA career when he was knocked out by Kyle Baker in the CFFC 23 headliner. Although he did lose, it was later turned to a no-contest after Baker failed a drug test. But did that lost stay with NSang? "I don't see it as a lost, I see all my losses as learning experiences" said NSang." What NSang came to learn was that his mind set was not there, he needed to be more aware.
Aung started to see a sports psychologist, seeing some affects as he approached his next fight. It was during his next fight, against Shedrick Goodridge when he saw his true potential. NSang confessed "For the first time in my career I felt like I was fighting to my full potential." He went on to submit Shedrick Goodridge at CFFC 26, earning his ninth career victory by submission. ""I felt super comfortable, I felt like I was in my own gym, I can remember everything from that fight" said NSang. This recent success has opened up his mind and has made him hungry for more, ready to fight Jonovin Webb.
Webb is an up and coming fighter, who is undefeated. All four of his fights have been with the CFFC, but he has yet to face an experienced fighter like NSang. NSang's biggest concern in this fight is Webb's leg locks, but has been working with many high level jiu-jitsu students down in Maryland. When talking about what he is anticipating, NSang said  "I believe Webb will come to fight, it's going to be an awesome fight." Nsang knows what he bring to the table and he said he is ready for whatever Webb brings tonight at CFFC 28.
NSang has the skills, strength, and dedication that it takes to achieve big things in this sport. The one thing he once lacked, he has acquired, the correct mind-set. Like all fighters, he is always learning, working to build his career up. "The Burmese Python said that he has a great team behind him, many great fighters are coming out of his gym who help him to improve everyday. NSang is content with staying with the CFFC and hopes to work his way up in there welterweight division and he continues the journey as he looks to hand Webb the first lost of his career.