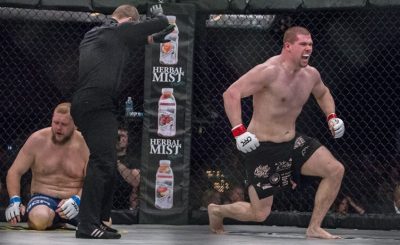 Heavyweight Shawn Teed will return to the Cage Fury Fighting Championships cage at CFFC 66 inside the Borgota Hotel Casino in Atlantic City, New Jersey on Saturday, Aug. 5.
The New Jersey based fighter took to his Facebook page, telling his friends and supporters he has tickets available for purchase.
Teed (3-1 MMA, 3-1 CFFC) is coming off the first defeat of his career. In the second round,  Teed showed his durability by recovering from being dropped twice.
Anyanwu opted not to go to the ground, forcing the referee to stand Teed. The champion dropped Teed a third time.
Teed lost a second-round TKO loss to Zu Anyanwu at CFFC 63 on Feb. 18.
Anyanwu recently signed with the UFC, fighting on the premier of the UFC Fight Pass Show Tuesday Night Contenders on July 11.
With Anyanwu headed to the octagon, the CFFC heavyweight division will be looking for a new champion. Teed could be a possible candidate after submitting all three of his opponents by keylock.
"I'm not your average heavyweight," Teed told NJ MMA News on Nov. 1, 2016. "Honestly who else is out there from the area?"
In his last victory at CFFC 61, he tapped out Jon Romero with a first-round key lock.
Teed made his professional debut at CFFC 53 on Dec. 4, 2015. In the second round, the 25-year-old finished Chris Daukaus.
According to Tapology, Teed his pegged as the No. 3 heavyweight in New Jersey and ranked at No. 14 in the Northeast.
With his ground credentials, Teed told NJ MMA News some critics feel he lacks a stand-up game.
"People seem to think I have no stand up," Teed said. "I just haven't needed to show it so far. I guess everyone will just have to wait and see."
Teed continues to try and prove them wrong. His opponent for CFFC 66 has not been announced.
By NJ MMA News Staff