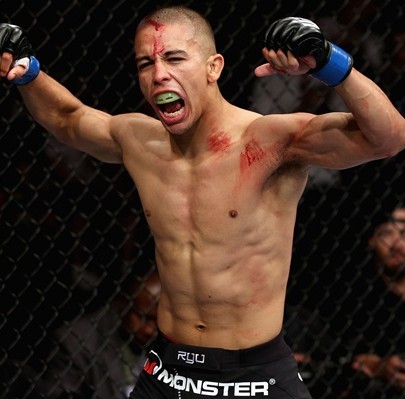 John Moraga (13-2) will look to re-enter the win column when he takes on Darren Uyenoyama (8-4) at UFC on FOX 9 in Sacramento, California on December 14th at the Sleep Train Arena.
Moraga was (2-0) inside the octagon when he took on current UFC flyweight champion, Demetrious Johnson. Moraga finished both of his fights, defeating Ulysses Gomez and Chris Cariaso. Moraga was submitted in the championship rounds at UFC on FOX 8 back in July. The lost snapped a seven fight win streak for the 29-year-old.
Like Moraga, his opponent, Darren Uyenoyama is also (2-1) inside the octagon. Uyenoyama had a solid decision win over Norfumi Yamamoto in his UFC debut. After almost a year lay-off, Uyenoyama submitted England's Phil Harris. Uyenoyama met his toughest opponent yet inside the octagon, when he fought Joseph Benavidez at UFC n FOX 7. Uyenoyama was dominated, until he was finished in the second round. Both flyweights will look to re-enter the win column come fight day.