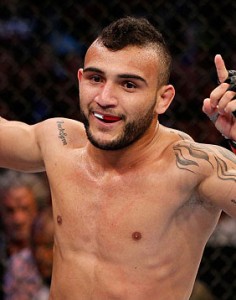 Flyweights, Ali Bagautinov (12-2) vs. John Lineker have been added to UFC 169, which takes place at the Prudential Center in Newark, N.J. on February 1.
The winner of this match-up could possibly face Demetrious Johnson for the flyweight championship. Johnson just defended his belt for the third time by defeating Joseph Benavidez via KO at UFC on FOX 9.
Bagautinov picked up his second UFC victory by defeating Tim Elliot via decision at UFC 167. Bagautinov made his debut with the promotion at UFC Fight Night 29 where he finished Marcos Vinicius, his first time fighting outside of Russia. Bagautinov has won 10 straight fights, making a name for himself.
Lineker has won four strait UFC fights. In his UFC debut, Lineker was defeated by Louis Gaudinot at UFC on FOX 3 in East Rutherford, New Jersey. Lineker has now earned 3 TKO wins over Azamat Gashimov, Jose Maria, and Phil Harris. Although Lineker has been racking up the wins, he has not been making weight. He has missed weight three times with the promotion.