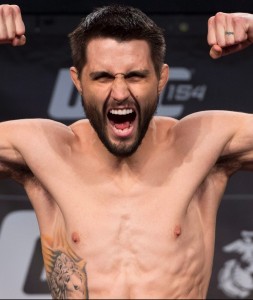 Since Nick Diaz turned down the offer to fight Carlos Condit (29-7) at UFC 171, Tyron Woodley (12-2) got his wish. Woodley will clash with Condit at UFC 171  on March 15, at the American Arilines Center in Dallas, TX.
Originally, White said that Woodley would not get the fight and he was tired of getting a bunch of text from Woodley, begging for the fight. White did admire Woodley for trying to get a big fight, so eventually he was rewarded.
Woodley is (2-1) inside the octagon . Most recently at UCF 167, Woodley knocked out Josh Koscheck in the very first round. Woodley came into that fight after suffering a decision lost to Jake Shields. In his UFC debut, Woodley scored another impressive KO win, this time over Jay Hieron at UFC 156.
Condit ended a two fight win streak and got back to his winning way by finishing Martin Kampmann at UFC Fight Night 27. Before that, Condit lost a decision to johnny Hendricks and then to former UFC welterweight champion, George St-Pierre. Condit was supposed to face Matt Brown this past weekend at UFC on FOX 9, but Brown suffered an injury.