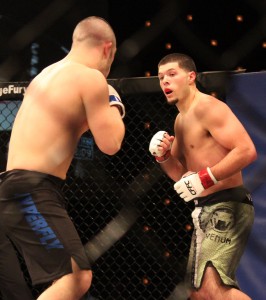 Cage Fury Fighting Championships will return in the new year of 2014 at the Borgata hotel an casino in Atlantic City, New Jersey on February 8th.
CFFC expands from New Jersey down to Virginia and across into Pennsylvania. CFFC is one of the most, if not the most elite organization in the area.
Cage Fury Fighting championships has produced some stand-out fighters like Joey Gambino, John Cholish, Tim Williams, George Sullivan, Aljamain Sterling, Sean Santella, and more.
CFFC last visited the Borgata for CFFC 28 on October 26th. That night two new champions were crowned as Charlie Brenneman finished Kyle Baker to win the CFFC lightweight title. Johnny Curtis earned a devastating KO win to take the heavyweight strap from Chris Birchler, handing Birchler his first professional defeat. 
There has not been to many rumors about who will be featured on the card, but it is likely that the current CFFC welterweight champion, George Sullivan will be featured on the card.
The organizations current champions are Sean Santella, Aljamain Sterling, Artur Rofi, Charlie Brenneman, George Sullivan, Dustin Jacoby, and Johnny Curtis.