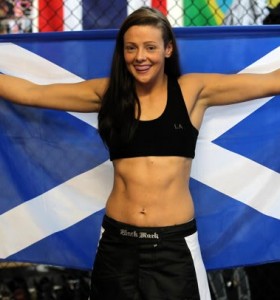 HOBOKEN, NJ (November 25, 2013) – Invicta FC strawweight (115 lbs.) champion Carla "Cookie Monster" Esparza (9-2) defends her belt against undefeated Brazilian superstar Claudia Gadelha (11-0) in one of three world title fights on Invicta Fighting Championships 7, airing live Saturday night, December 7 on pay-per-view from Ameristar Casino Hotel in Kansas City, Missouri.
The stacked, nine-bout event is headlined by a potential instant classic, showcasing Inficta FC flyweight champion Barb Honchak (8-2) and her challenger, three-time "Fight of the Night" winner Leslie "The Peacemaker" Smith(6-3-1).
 Invicta Fight Championships 7 is being distributed in North American by Integrated Sports Media for live viewing at 9:00 p.m. ET – 6:00 p.m. PT on both cable and satellite pay-per-view via iN Demand, DISH, Avail-TVN in the United States, as well as Bell TV, Shaw PPV, SaskTel, TELUS, and MTS in Canada, for a suggested retail price of only $14.95.  In addition, viewers worldwide may purchase the show at www.invictafc.com and the Invicta Fighting Championship's Facebook page.
Esparza (9-2), fighting of Redondo Beach (CA), meets undefeated Brazilian superstar Gadelha (11-0) in the co-feature. She returns to the cage for the first time since sustaining a knee injury earlier this year during training.  She is riding a four-right win streak into her showdown with Gadelha.
"Fighting on pay per view is very significant," the 26-year-old Esparza said.  "Invicta FC brings in fighters from all over the world, so it is great that their fans will be able to watch.  I think that, once fans get a taste of Invicta, they will want to continue watching whether or not someone from their country is fighting.
"I think Claudia will come out hard right away.  She has seven first-round finishes, which means she does not like to waste any time.  I am expecting a very difficult first round.  We both have an excellent ground game, so hopefully we can put on an entertaining, strategic ground-war if the fight happens to go there. She wants to get in there and get to work right away.  I will go out there and leave it all in the cage.  I am training very hard for this fight and I know she is too."
Unbeaten since turning pro in 2008, Gadelha will make her second start under the Invicta FC banner having scored an impressive win by third round (3:58) TKO over JEWELS champion Ayaka Hamasaki last July.
"It is going to be a war," the 24-year-old Gadelha agreed with her opponent.  "We are both coming in top shape, ready to put on a great fight.  This will be one to remember!  Being on pay per view is huge for women's MMA.  I am really excited because we women train just as hard as male athletes in MMA.  I feel we deserve this opportunity. It'll be great for the world to be exposed to not just women's MMA, but the Invicta Fighting Championships, as well.
"Carla was a wrestler, first, so I know that she likes to take the fight to the ground.  I will be ready for anything she throws at me.  It's going to be an exciting fight."
In the third world title fight, the inaugural Invicta FC bantamweight (135 pounds) world championship title will be on the line, featuring knockout artist Lauren Murphy (7-0) against unbeaten rising star Miriam Nakamoto (2-0, 1 NC).
 Felice "Lil' Bulldog" Herrig (9-4) makes her highly-anticipated Invicta FC debut versus unbeaten strawweight Tecia "The Tiny Tornado" Torres (3-0).
Also fighting on the undercard in a battle of unbeaten strawweights are Scotland's Joanne Calderwood (7-0) vs. Finnish strawweight Katja "Killer Bunny" Kankaanpaa (8-0-1), as well as Canadian featherweight (145 lbs.)Julia "The Jewel" Budd (5-2) vs. fellow Canadian Charmaine "Not So Sweet" Tweet (4-3), flyweight Zoila Frausto Gurgel (12-3) vs. Vanessa Porto (15-6), bantamweight Kelly Kobold (18-3) vs. Tonya "Triple Threat" Evinger (11-6), plus flyweight Munah "The Perfect Storm" Holland (5-2) vs. Nina "The Strina" Ansaroff (5-4).