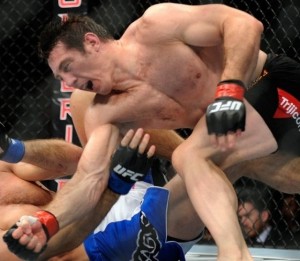 After losing his original opponent, Tim Kennedy will meet Rafael Natal at UFC: Fight for the Troops 3. Lyoto Machida stepped in for the injured Michael Bisping to fight Mark Munoz at UFC Fight Night 30. Machida was supposed to make his debut against Kennedy. The soldier and Natal will headline on November 6th in Fort Campbell, Kentucky.
Kennedy had a successful UFC debut when he defeated Roger Gracie back in July via decision. Kennedy has always been a threat in the Strikeforce middleweight division and now he will look to have the same effect. Kennedy did not have the most exciting fight in his debut, but will look to finish the Brazilian in his upcoming bout. Kennedy announced via twitter "Opportunity knocks @rafaelsaponatal, you always win, but no one knows who you are. When I'm done with you, neither will you(Tough guy voice)."
Natal has been on a tear as of late, winning three strait fights. In his most recent bout, Natal defeated TUF 17′s Tor Troeng  at UFC Fight Night 28. Natal was supposed to be having Ed Herman and the upcoming UFC 167 event. This will most likely be Natal's toughest test yet.