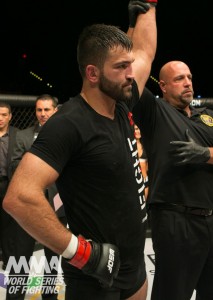 Last night at the Revel hotel and casino in Atlantic City, New Jersey, Andrei Arlovski re-entered the win column, David Branch wrestled out a win, Derrick Mehmen earned an impressive KO victory, Elvis Mutapcic was not allowed to fight, and Georgi Karakhanyan tapped out Waylon Lowe in his WSOF debut.
Gerogi Karakhanyan entered the WSOF cage for the first time in his career last night. It took Karakhanyan some time to get started. Lowe did not look like the Lowe we have seen recently, not very aggressive, looked as if he was holding back. Karakhanyan hurt Lowe, Lowe dropped for takedown, and Karakhanyan slapped in a  guillotine choke. Karakhanyan stretched out Lowe and he was forced to tap.
Next fight was supposed to be Jesse Taylor vs. Elvis Mutapcic. Mutapcic was warming up right outside the fighter's entrance when his camp was approached by the New Jersey Athletic commission. It was later stated that a NJSACB official allegedly witnessed Mutapcic taking an unapproved prescription medicine before the fight. Mutapcic of coursed denied the allegations and said that the official must have mixed up him with one of his corner men. The fight was scratched and one half of the middleweight tournament semi-finals is undecided.
With Mutapcic vs. Taylor being scratched, Derrick Mehmen and Rolles Gracie took to the cage in a heavyweight match-up. the first round was not very productive, both fighters landed here and there, but no damage was really done. Rolles was landing the jab repeatedly on Mehmen. In the second round it seemed like it was going to be very similar round until Mehmen set up a left jab, followed by an over hand right. Rolles turned his back toward Mehmen, walked to the fence and toppled over, Mehmen followed him down, but was quickly thrown off by the referee. Mehmen could possibly meet Arlovski next.
In the co-main event David Branch earned a very one-sided unanimous decision over Danillo Villefort. Villefort did not have much answers for Branch as Branch just kept scoring takedowns and coasted to a decision. Villefort never changed up his game plan, which caused him to be taken down and unable to get back up to his feet, causing him to lose.
In the main event, former Strikeforce fighter Mike Kyle met former UFC heavyweight champion, Andrei Arlovski. Arlovski was rocked in round one and it looked like Kyle was gonna get the win. Arlovski held on and that was all she wrote. Arlovski made the rest of the fight look easy, using his reach and picking Kyle apart. Arlovski went on to earn the unanimous decision over Kyle, making Arlovski (2-1) in the WSOF cage.