A romantic evening at the drive-in with #BlumarineXTempo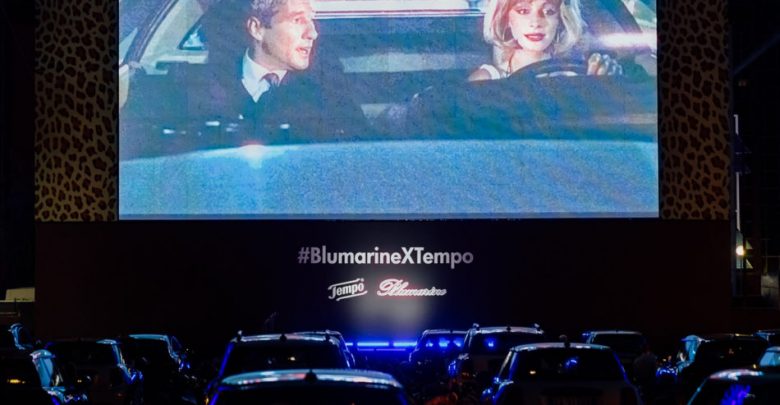 Browse gallery
A night full of stars, prestigious guests, an iconic film. These were the ingredients of the magical #BlumarineXTempo evening which was held last night at the drive-in in Milan
Edward: "And what happens after he has climbed the tower and saved her?"; Vivian: "Let her save him!" How can you not be moved by one of the most famous lines of the film Pretty Woman ? Impossible. Let alone listen to them in an outdoor cinema on four wheels. The emotion is even stronger. This is what happened last night to the special guests of the # BlumarineXTempo event who met in the exclusive Milan drive-in in via Senigallia, aboard a MINI, for the presentation of the boxes made in collaboration between the brand of the handkerchiefs and the fashion house.
Decorated by the iconic Blumarine patterns - lace, flowers and animal patterns - the very stylish boxes were, in fact, next to the parking space reserved for guests in an intimate open air lounge. Original, dreamy, but above all respectful of the health rules imposed, the Drive-in signed by the Tempo brand was one of the first post Covid social events organized in the Milanese city.
Numerous well-known faces from the world of culture, entertainment and fashion who participated, among them: Victoria Cabello (presenter), Ludovica Pagani, Emanuele Farneti, director of Vogue Italia, Giovanni Audiffredi, director of GQ, the influencers Beatrice Valli, Paola Di Benedetto, Michela Coppa, Mia Ceran, Chiara Maci and many others.
There's more. The limited edition BlumarineXTempo boxes support UNICEF Italy within the project Innovation Lab : a network of spaces between Kosovo and Lebanon where organize workshops, training courses and events that allow students to discover their potential, but also to network with peers and adults who share the same passions and projects.
READ ALSO
The soft make-up to make the look fresher and younger
READ ALSO
Ten foundations that do not stain the mask
READ ALSO
Mascara, the makeup superhero (from mask and not)