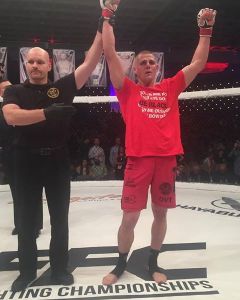 Tim Williams is looking to make a return at Cage Fury Fighting Championships 66 inside the Borgota Hotel Casino in Atlantic City, New Jersey on August 5.
If CFFC 66 is not possible, Williams (15-3 MMA, 10-3 CFFC) is opened to other options.
Four months after his last fight, Williams wants to earn a spot inside the octagon. Still waiting for his call, Williams is trying to stay active to grab the UFC's attention.
"I'm shooting for Aug. 5 for CFFC, but looking around, the goal is the UFC," Williams said. "But I got to stay active and win fights and show progress."
Williams practiced what he preached in his last bout after defeating former UFC middleweight Jay Silva by unanimous decision at CFFC 63 on Feb. 18.
Although Williams never earned the finish, the New Jersey native pushed the pace and searched for takedowns to earn his way to victory
In the end of each bout, Williams is looking to get better and said he did just that.
"Yeah, my last fight I felt I did ok. I won the fight and the guy was on defense most of the fight, but I feel there was some opportunities to finish the fight and I let that slip," Williams said. "It never ends, I have to improve a lot if I want to be the best 185 lbs. fighter in the world."
After competing on two seasons of "The Ultimate Fighter," Williams is unable to try out for the show, including the up coming season which includes middleweights.
TUF 17 is the first time Williams appeared on the TV show, Williams lost by decision to Dylan Andrews to earn a spot into the house. Williams made a return to TUF in season 19.
To move into the house, Williams finished Bojan Velickovic by TKO in the third round. Chosen by Team Penn, Williams lost his first fight to Dhiego Lima by rear-naked choke in round one.
Without the chance of a third TUF appearance, Williams is focused on the only thing he can control, himself.
"As far as the CFFC belt goes, it doesn't matter what I think as far as the belt goes, that's up to them," Williams said. "I'll just be getting better each fight and growing as a martial artist."
By NJ MMA News Staff