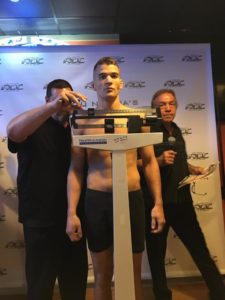 James Gonzalez earned a Ring of Combat lightweight title shot by defeating Michael Lawrence via unanimous decision at ROC 59 inside the Tropicana Hotel and Casino in Atlantic City, New Jersey on June 2. NJ MMA News talked to Gonzalez (3-1 MMA, 3-1 ROC) about his past fight and his future in MMA.
Q: That is four-straight wins for you, what do you contribute most to your success?
Gonzalez: Believing in myself I think contributed a lot to my success in the cage. I used to think I needed other people to believe in me and you do in a away, but self belief has gotten me to where I am now.
Q: The win was a title eliminator, we're you able to catch Julio Arce's bout and what did you think?
Gonzalez: I saw most of his bout. Julio is a tough opponent for anyone and I think we will have an entertaining match when we fight for the title.
Q: How do you stack up against Arce?
Gonzalez: When the fight happens, we will see how it goes.
Q:  If Arce was to move on to the UFC, is there anyone you think would the guy to fight you are 145 lbs.?
Gonzalez: If he vacated the belt, I'm sure the only two people deserving would be either Mike Trizano or Pat Sabatini. Either of those guys I would be happy to compete against as both fights would be hard fought and a great test.
Q: Your first and only career loss came against Mike Trizano. How do you think you fair against Trizano now compared to the first time?
Gonzalez: Trizano is a tough match-up for anyone. As for this time if I compete against him it will be a different fight. I'm not a cocky fighter, but from how much I've grown and all the work I put in since then, it will be a much more competitive fight.
Q: And in your opinion, do you think any two of those guys would be a tougher fight than Arce?
Gonzalez: I think all these guys are dangerous. I'm not overlooking anybody over anyone. I respect all these guys as fighters.
Q:  You had an opportunity to fight in front of Dana White, what was that like for you?
Gonzalez: Meeting Dana White and fighting in front of him was definitely surreal. I'm hoping to keep moments like that happening, fighting in front of UFC brass like himself.
Q: Your teammate Merab Dvalishvili signed with UFC, what was it like to be able to see that up front?
Gonzalez: Honestly it's amazing seeing your friends meet their goals and attain the dreams they've worked so hard for and it is inspiring. It just proves to me I can do it to. I'm so happy for and proud of him.
Q: When you see someone like that make it, does that give you any more fire?
Gonzalez: Of course. I couldn't stay out the gym more than 24 hours after the fight. I'm already back to full on training.
Q: You said you are already back in the gym, is there any talk on when your title bout could be?
Gonzalez: I'm sure September is the next ROC, so I'm shooting for that if not whenever it's available
By NJ MMA News Staff