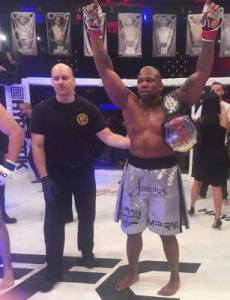 Cage Fury Fighting Championships Heavyweight Champion Zu Anyanwu is headed to the UFC.
Anyanwu (13-4 MMA, 0-0 UFC) will be featured on the premier episode of UFC President Dana White's Tuesday Night Contender Series on July 11.
The show will consists of five LIVE fights in each episode on UFC Fight Pass show. The talent pool will consists of up and coming prospects, as well as fighters looking to revive their career.
The fights each week will take place at "The Ultimate Fighter" gym in Las Vegas, Nevada.
Anyanwu is no stranger to performing in front of White. The 35-year-old fought in front of White at CFFC 63 for the season two, episode two of "Dana White: Lookin' for a Fight." After a close first round, Anyanwu finished Shawn Teed by TKO in the second round in the main event on Feb. 18.
The three-time CFFC champion defended his belt twice in his third stint with the strap. Anyanwu reclaimed the title by defeating Plinio Cruz via unanimous decision at CFFC 58 May 21, 2016.
Out of 13 victories, he finished nine of his opponents. This included seven wins by TKO/KO.
His opponent for the show has not been officially announced. In a press release, White said the show is a good a way to find more talent outside of the UFC.
"This sport continues to get bigger all over the world, and the more fights we can put on, the more talent we can find, the better the events will be for the fans," White said. "I love looking for up-and-coming talent. This show's going to give us another opportunity to bring in young fighters who we think have potential to make it in the UFC or maybe even one day become world champions."
Anyanwu is currently pegged as the No. 1 heavyweight competing in New Jersey according to Tapology.
By NJ MMA News Staff