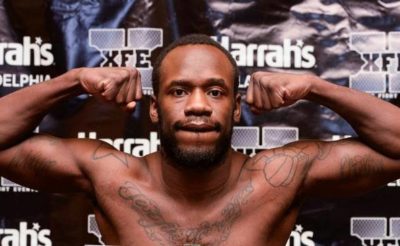 Shedrick Goodridge is returning to the cage for the first time since Sept. 20, 2014.
Nearly three years after his last mixed martial arts contest, Goodridge (6-8 MMA, 0-0 MMMA) will face Ryan Contaldi (8-9-1 MMA, 0-0 MMMA) in a light-heavyweight bout at Maverick MMA 2 scheduled for the Sherman Theater in Stroudsburg, Pennsylvania on July 1.
During the lay-off, Goodridge trained from time to time, but his desire to fight remained constant in his life.
"The drive never left me, just wasn't as strong while having so much on my plate," Goodridge said. "So I had to step back, re-evaluate and then comeback on some new level [email protected]#%."
The will to win is still existing for Goodridge and he said during his time off, the hunger to fight continued to build.
His absent from MMA started when his son Michaelangelo was born on May 5, 2014. Wanting to dedicate time to being a father, Goodridge opted to step away from the sport.
On June 12, 2016, Goodirdge's daughter, Aryana was born. During this time Goodridge worked at a Sprint cellphone store, providing for his family.
"I had to go back to work after having another lil booger," Goodridge said. "I had to take care of them, so that came first."
The natural middleweight is coming off a loss and is making sure his return starts with his hand being raised. Goodridge changed gyms by moving from Team Bombsquad in New York to Driven Gym in Woodbridge, New Jersey.
Driven is the first gym Goodridge fought for, formerly known as Camp Sao Lak. It is a decision he made based on loyalty.
He considers Sao Lak his home.
With 14 fights to his name, the 27-year-old is not planning on being one and done. He is looking to finish what he started and climb his way up the regional rankings.
"I got a lot of fight left and still aiming to get to that next level whatever show it is," Goodridge said. "I signed a long term deal with my manager David Fish and we are looking to keep this train rolling."
By NJ MMA News Staff